Anna Nicole Smith Place
---
R.I.P. Anna Nicole Smith (1967-2007)
Her Story
Anna Nicole Smith is certainly one of the leading sex symbols of our time. The blonde bombshell from Texas skyrocketed to fame in the early 1990's with a body and a personality that reminded everyone of Marilyn Monroe. After being named Playmate of the Year in 1993, Anna Nicole became the Guess Jeans model in a series of ads. Her full-figured curves made her a natural for the role.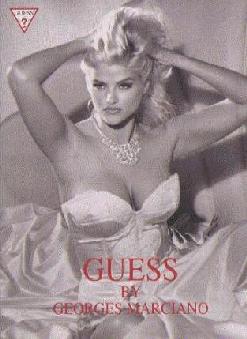 Following her initial success, Anna's career soon took a turn for the worse. In 1994 she married 89 year old Texas billionaire J. Howard Marshall II whom she met while working as a stripper in Houston prior to her Playboy appearance. Anna claimed it was true love, but the media ridiculed her as a gold-digger.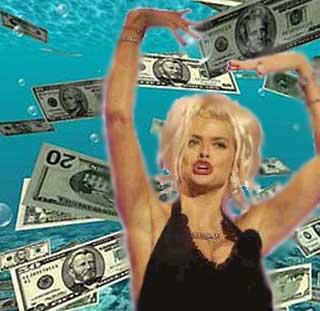 With her husband's tragic death in 1995, a bitter legal fight over his estate ensued with the Marshall family. Making matters worse, Anna Nicole was all over the tabloids with rumors of personal problems including substanse abuse and the incredible "explosion" of her massive breasts.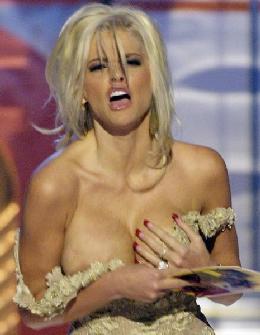 Throughout this turmoil, Anna Nicole Smith kept fighting to be taken seriously. She landed small roles in mainstream comedies such as The Naked Gun 33 1/3 and The Hudsucker Proxy. However, these films received poor reviews and Anna was not viewed as a rising star by the critics. It was at this point that the blonde bombshell turned to her boyfriend and acting coach Ray Martino. She entered the world of B-movies with legendary producers Joe Merhi and Rich Pepin of PM Entertainment. Ray Martino personally directed Anna in the action flicks "To the Limit" and "Skyscraper". Both films were seen widely on cable tv and became bestselling rentals at video stores thanks to horny guys hoping to catch a glimpse of Ms. Smith's legendary tatas. In addition to copiously displaying her assets, Martino nurtured her action skills in these films. The combination proved a winner.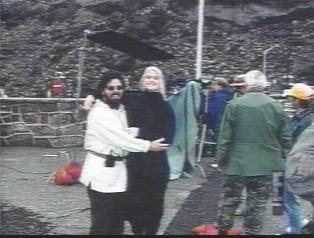 In 1998 Ray Martino again teamed with Anna Nicole for a "day-in-the-life" type documentary about the sex-symbol's wild life entitled Portrait of a Pin-Up Queen. Though the movie wasn't a critical success, Anna's fans were very pleased by the T&A flick that advertised "her fantasies revealed." And then Anna Nicole's career hit another roadblock. Apart from a 1999 guest spot on Ally McBeal and a gig with Penn and Teller, the Texan was no longer being offered good opportunities by Hollywood. The slump led to depression and weight gain. By 2002 Anna had completely lost her legendary figure.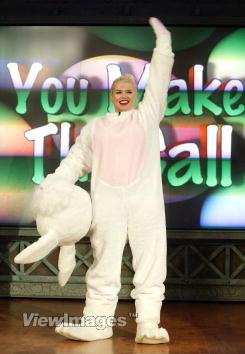 But Anna Nicole's career again made an amazing comeback. Inspired by Ray Martino's documentary, the E! Channel gave Anna a reality show where she could display her crazy lifestyle and wacky friends (such as lawyer Howard K. Stern) to millions of eager voyeuristic viewers. The show ran for 2 seasons and proved to be a ratings and critical success.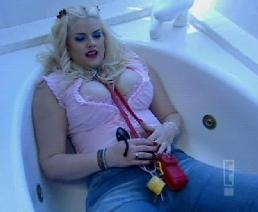 This triumph led to a big endorsement deal for the popular diet pills TrimsSpa. In addition to hawking the product all over television, TrimSpa helped Anna herself to lose the weight she had been carrying during the filming of her E! show. Anna couldn't wait to show off her new body and talk show hosts everywhere were lining up to get a look. More plastic surgery to fix her leaky boobs followed and then Anna Nicole Smith was deemed by many of her fans to look just as fine as when she first posed for Playboy back in 1993.
2006 continued to be busy for our girl. She starred in the comedy Illegal Aliens alongside the female wrestler Chyna. However, Anna has actually received more publicity for her impact in the legal field. Continuing her 11 year legal fight, Anna Nicole appeared in front of the US Supreme Court (dressed in a conservative black dress) to gain her rightful share of her late husband's estate $500+ million estate. The old geezers were impressed by her boobs briefs and she was given the right to sue for her take of the booty. Ironically, her 66 year-old stepson Pierce Marshall died of a sudden heartattack mere weeks after Anna defeated him in court. The lesson is clearly not to mess with Anna Nicole Smith!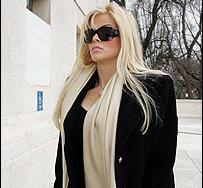 With the issue of her inheritance still unresolved, Anna revealed in June 2006 that she was pregnant with her second child. She did this in typical Anna Nicole style by posting a video to her website where she made the announcement while floating on an inflatable raft in a swimming pool as a small white dog barked in the background. Oddly, she initially remained quiet over who the baby's father would be. Anna went to The Bahamas in October 2006 to give birth to a baby girl she named Dannielynn. It was then revealed that her longtime lawyer Howard K. Stern was the father and that the pair had recently married. Her ex-boyrfiend Larry Birkhead strongly disputed this claim and began a paternity suit. At the time of Anna's death in February 2007, the true identity of the child's biological father was still undetermined.

\par

The downward spiral that perhaps contributed to her untimely death began just 3 days after the joyous birth of her new baby. Anna's 20 year old son Dannie mysteriously collapsed while visiting his mom and new sister in the Bahamian hospital. A coroner's report revealed that he died from a reaction to a prescription drugs. Anna Nicole was devastated. She soon became very ill herself with pneumonia. After a slow recovery and alleegations of drug abuse, Anna attempted to move on with her life and new family. But the issue of the child's paternity would not go away. And as Mr. Birkhead moved ahead with his suit, Anna returned to Florida for the court hearing.

Then while staying at the Hard Rock Casino in Hollywood, Florida, Anna Nicole Smith was found dead in her room on February 8, 2007. A bodyguard quickly called paramedics who attempted to revive the 39 year-old beauty. But it was too late. Preliminary reports claim that she may have suffocated after throwing up due to her own reaction to prescription drugs. However, a more extensive toxicology report would have to be performed to answer the questions of a fascinated American public.

So as the world mourns the loss of Anna Nicole Smith, her story remains behind for us as an example of the triumphant and tragic dichotomy that is the American dream. Anna literally came from nothing and literally gained everything. Throughout this journey, however, she never hesitated to put it all on the line to chase her dreams and her demons too. Just like her fluctuating weight or the image of her huge knockers shaking on a trampoline, Anna Nicole's life moved at a yo-yo's pace. Wild and crazy, but it sure was a beautiful one. We'll miss you, Anna!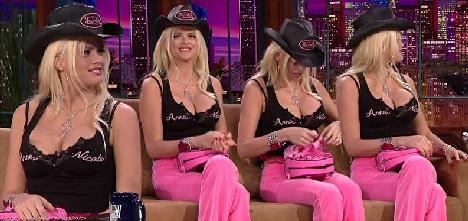 Menu
Photos of Anna Nicole Smith at the Academy Awards
Photos of Anna Nicole Smith with director Ray Martino
Review of To the Limit with video captures from the movie
The Bob Gallo & Ray Martino Homepage
Anna Nicole Smith's Official Website
Anna Nicole Smith Enters a Myrtle Beach Wet T-Shirt Contest in 2005
Trivia
Birth name: Vickie Lynn Hogan; Date of Birth: November 28, 1967; Date of Death: February 8, 2007 Hometown: Mexia, Texas; Marriages: Billy Smith (1985-1987), J. Howard Marshall II (1994-1995), Howard K. Stern (2006-2007); Children: Daniel Smith (died age 20), Dannielynn Stern (born 2006); First job: waitress at a fried chicken restaurant; Average Measurements: 5'9", 140 lbs., 36"DD-26"-38"
Quotes
When asked what was her kinkiest moment: "A ghost, hung like a horse, a fucking HUGE horse, would crawl up my leg and have sex with me at an apartment a long time ago in Texas. I was freaked out about it, but then I was like, well, you know what? He's never hurt me and he just gave me some amazing sex, so I have no problem."
As a presenter at the 2004 American Music Awards: "Do you like my body?"
Questions? Comments? Write to: worldofbmovies@yahoo.com