Hard Vice
aka Vegas Vice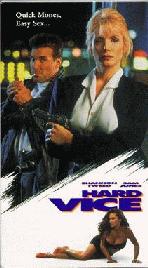 In this 1994 classic, Branscombe burns up the screen as Tony, one of Las Vegas' toughests criminals. This hoodlum is a pimp and drug pusher, but more importantly, Tony controls the dark side of Vegas - the home of "quick money" and "easy sex."
But an equally tough and cunning vice squad is on to him. The crew is led by international action star Sam Jones and his partner, sexy Playmate of the Year and "straight-to-video" queen Shannon Tweed. The final confrontation between Branscombe and Vegas' finest sets new standards for Hollywood excitement.
The cast feautures memorable supporting roles by Rebecca Ferrati, James Gammon and Jack Bannon. Also look for cameos by PM Entertainment legends Gino "Dinnocente" Dentie and Jean Levine. Raymond Martino of Mayhem fame contributed with post-production supervision and Joey "Don't Call Me John" Travolta directed this epic.
Rush to your local video store to pick up Hard Vice from A-Pix Entertainment and Raejoe Productions!